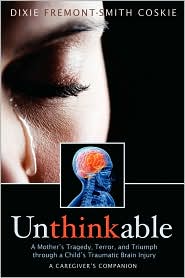 Unthinkable by Dixie Fremont-Smith Coskie
A mother's narrative of perseverance following her son's traumatic brain injury. Unthinkable is filled with universal lessons of struggle and triumph. Following each chapter of the harrowing journey are vital insights to assist others through their tragedies.
Follow Dixie's Journey…a mystery, a love story, a prayer.