Brain injury is FOREVER…
…PREVENTION is the only cure.
Can Brain Injuries be prevented?

Most injuries can be prevented by sitting quietly at home but people don't want to live their lives that way. But a few simple steps can drastically reduce the risk:
Don't text and drive

Don't drink and drive

Don't use consciousness-altering drugs before driving or other activities where alertness is vital

Wear a seatbelt in the car and make sure children are in safety seats.

Slip-proof your home, especially the bathroom.

Play sports responsibly, using the proper equipment. Ensure your coach is updated on the latest concussion information.

Wear a helmet when skiing, snowboarding, cycling, mountain biking and skateboarding.
10 tips to keep in mind when buying or using a helmet:
Keep the following tips in mind when purchasing or using a helmet:
Please purchase a NEW helmet. Never buy a used helmet at a swap meet or garage sale – it might be damaged!
Make sure there is a safety sticker inside (look for CSA, ASTM, CPSC or SNELL).
There should not be any decorations, paint or stickers on the helmet.
There should not be any cracks, dents or other damage.
Pads should touch the head at the front, sides, back and top.
No more than two fingers should fit between the wearer's eyebrows and the helmet.
The V-strap must fit tightly under each earlobe.
Only one finger should fit under the chin strap.
Never wear a hat under a helmet.
Never wear a high ponytail with a helmet.
There are two basic types of helmets: single-impact helmets ("crash helmets") and multiple-impact helmets. Bike helmets are crash helmets, designed to protect your head against a single hard fall. Multiple-impact helmets, such as hockey helmets, are designed to withstand several falls. The main difference is the type of foam used in the core of the helmet.
Special Note: Bike helmets should be routinely replaced about every four years even if they have no apparent damage. This is because bike helmets are single impact helmets. They need to be in good condition to protect your head!
Know which type of headgear to wear for different activities: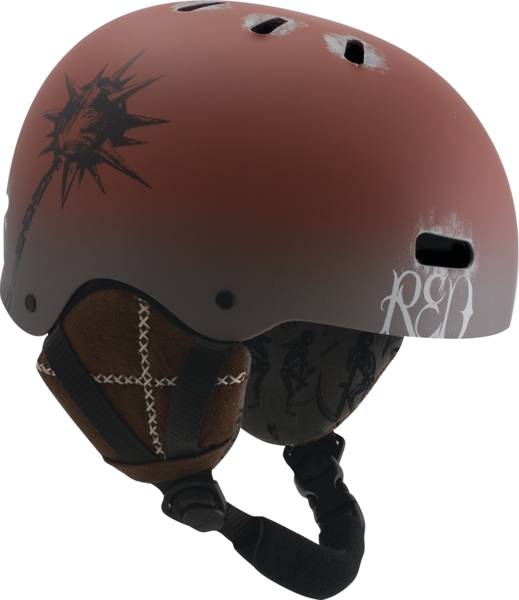 | | |
| --- | --- |
| Sport: | Helmet Type to Use: |
| Cycling/scootering | Bike helmet |
| Skateboarding | Skateboard helmet |
| In-line skating | Skateboard or bike helmet |
| Sledding | Ski or hockey helmet |
| Playing hockey | Hockey helmet |
| Downhill skiing | Ski helmet |
| Snowboarding | Ski helmet |
| Ice skating | Hockey helmet |
Helmet fit:
Select a helmet that fits.
DO NOT buy a helmet that can be "grown into".
Use the different sizes of pads that should come with the helmet to make it snug around the head.
If the helmet is too big with the thickest size pads then the helmet is too big and a smaller one is safer.
Try different brands and sizes to find the best one for you.
3-point helmet adjustment:
No more than two fingers from eyebrows to bottom of helmet.
Ear buckles right under each ear lobe. Straps should form a "V" around each ear.
No more than two fingers under your chin strap. Helmet should be comfortable but snug.
Helmet should not "rock" side to side or from front to back.
Click here for vital helmet info from Parachute
School Education Program:
Our "Heads Up Crew" offers a School Education Program for Grades 4 and 5 students.
This 90 minute, fun and interactive learning experience will educate our children on the brain, what it is made of, how it works and how it can be injured.
For more information about this program click here; to have a presentation, please contact us.
What we do:
We have been bringing this message to the community through awareness campaigns in the media, and have been featured several times on the local cable channel and in the newspaper.
By bringing an education program to grade 4 and 5 students in our area with a special focus on prevention, we  educate on the proper procedures for safety in sports, safe cycling, safety around water, seat belt safety, general traffic safety and a variety of other preventative measures to ensure a reduction in the risk of head injury.
Throughout June, which is Brain Injury Prevention and Awareness month in BC, we  run special programs to promote acquired brain injury awareness.