Every time you make a purchase from Amazon after clicking through from our website, you are helping raise funds for the Brain Injury Society. Thank you.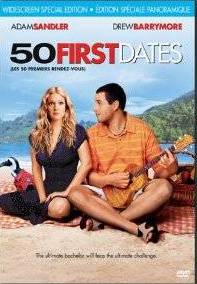 50 First Dates  A romantic comedy about a girl with no short-term memory. Although there is potential for more, the movie is still funny (if you like Adam Sandler) .
A Beautiful Mind  stars Russell Crowe in an astonishing performance as brilliant mathematician John Nash, on the brink of international acclaim when he becomes entangled in a mysterious conspiracy. Now only his devoted wife (Academy Award winner Jennifer Connelly) can help him in this powerful story of courage, passion and triumph. Directed by Ron Howard.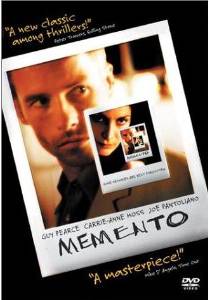 Memento – An amazing story told in reverse about a man who wakes up with no short term memory, yet manages to work his way through the story backwards to figure out who is his enemy and why.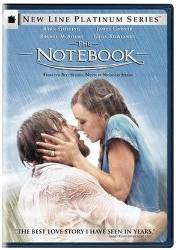 The Notebook An elderly man (James Garner) visits a nursing home to read entries from a notebook to a woman (Gena Rowlands) with Alzheimer's disease about a long-ago love affair in which they were involved. Based on the Nicholas Sparks novel.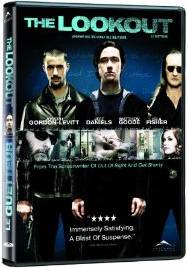 The Lookout What happens to Chris Pratt after suffering a traumatic brain injury in an automobile accident. Actor Joseph Gordon-Levitt spent a lot of time "hanging out" with TBI survivors at the Betty Clooney Foundation in California while preparing for his role, and he does a good job showing that brain injury survivors are just like everyone else, except during those moments when the injured brain takes over.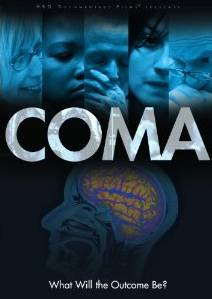 Coma HBO Documentary Films unique look at the mystery of traumatic brain injury, which has captivated Americas imagination for decades, COMA follows the personal journeys of four traumatic brain injury patients over the year following their emergence from a coma into either a persistent vegetative state, a minimally conscious state, or beyond. Directed by award-winning filmmaker Liz Garbus, COMA goes inside The Center for Head Injuries at JFK Medical Center, a top U.S. medical facility for the treatment of head trauma. The film charts the patients progress and details the efforts made on their behalf by doctors, therapists and, most poignantly, families and friends. In addition to the feature documentary, the DVD includes an additional feature on a fifth patient, Willie Hicks, whose recovery from a brain injury is more pronounced than those of the four subjects seen in COMA.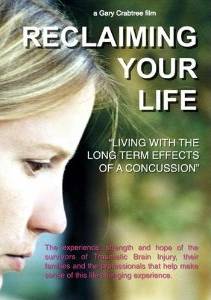 Reclaiming Your Life "living with the long term effects of a concussion" "Reclaiming Your Life" is essential for anyone who has sustained a (MTBI) post concussion syndrome or who lives or works with people who have survived a traumatic brain injury. This valuable resource shares the experience, strength and hope of other survivors and helps understand and overcome the frustrating symptoms and regain a life of health and vitality.
More than one and one half million people in the United States and more than eleven million people world wide suffers this form of brain injury each year. It is the leading cause of death for men under the age of forty five. Although it can happen to anyone, anywhere, or anytime — in auto, sports or work -related accidents; in household falls, or through physical assault traumatic brain injury is still one of the foremost misdiagnosed or under diagnosed health concerns today. A significant percentage of victims suffer debilitating symptoms for months or years afterward, from depression, learning disabilities and chronic fatigue syndrome to migraines, vision problems and seizures. And the fact remains, After a brain injury, a person is never the same.
As a survivor of traumatic brain injury, Gary Crabtree and the many others you will meet in this film are living proof that after a brain injury a person's life is changed forever. Gary Crabtree has set out to provide help, support and information for other survivors of mild traumatic brain injury, their families and friends to help them make sense of this sometimes mystifying condition.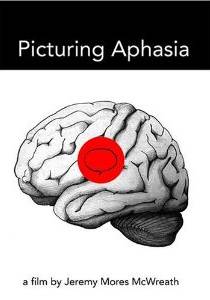 Picturing Aphasia An estimated one million people in the United States have aphasia, but most people have never heard of it. Aphasia is a communication condition caused by damage to the language areas of the brain. This damage can come from a traumatic brain injury or a stroke. There is no cure for aphasia but there is rehabilitation.
Every person's brain is unique, and so are the language disabilities a person could develop from damage. Aphasia can affect both comprehension and production of spoken and written language. Every person with aphasia has a different level of comprehension and production. Aphasia does not affect a person's intelligence in any way. Their brain function has not been altered beyond their language ability.
Picturing Aphasia is designed to function both as a way to raise awareness and understanding for aphasia and as a therapeutic device for people with aphasia. The idea was to give each person in the interview a forum to communicate with people who have aphasia and people who do not. It is an experiment in communication. Visual symbols are by no means a universal form of communication. The drawings created to interpret each personIs statements were designed to help bridge the gap between hearing, seeing, and comprehending. The images are to act as an aid in the understanding of the spoken language.
The goal of Picturing Aphasia is to allow people who have just developed aphasia an opportunity to understand that rehabilitation is not only possible but likely.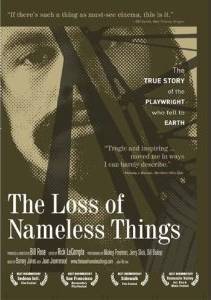 The Loss of Nameless Things In 1978 Oakley Hall lll was a promising playwright on the verge of national recognition when a mysterious fall from a bridge took his artistic life away. He suffered horrific head injuries, was hospitalized nearly a year and incapicitated much longer. The Loss of Nameless Things is the haunting tale of Hall's fall from grace and what happens when, twenty five years later, a theater company stages the very play he was writing the night he fell.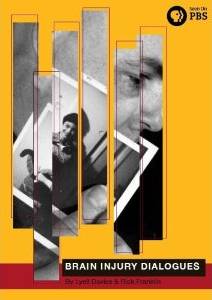 Brain Injury Dialogues Though he appears normal, Rick Franklin's brain injury has made his life anything but. Teaming up with veteran documentary maker and friend Lyell Davies, Rick explores the impact that brain injury has had on himself and other survivors.
As they visit with brain injury survivors, invisible aspects of this disability become more clear; we see the wide range of deficits that survivors must face, both physically and mentally, and learn how no two brain injuries are alike.
We also hear how survivors learn to deal with life after a brain injury by means of personal, medical, and even political strategies.Comments by a cognitive therapist and a disability studies scholar offer additional insight into this disability that affects far more people than you might suspect.Includes an interview with disability rights advocate, Zona Roberts.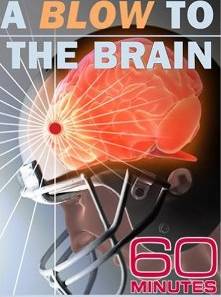 60 Minutes – A Blow to the Brain Devastating, degenerative brain disease has been shown to be the result of severe repetitive head injuries such as concussions, and no one is more at risk than athletes. Former Patriots linebacker Ted Johnson tells Bob Simon that his depression and other cognitive problems are due to the more than 50 concussions he says he suffered on the field.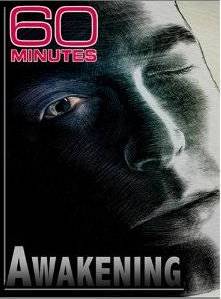 60 Minutes – Awakening There are as many as 300,000 Americans living with such serious brain injuries that they are trapped in what is called a "minimally conscious state" – they can't talk, walk, or eat. Most will never emerge from this state, but for a few, there might be hope. Recently, a few brain-damaged patients — who had been unresponsive for years — had awakenings after, ironically, being given the sleep medication Ambien. Anderson Cooper reports.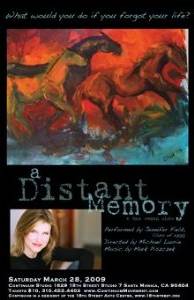 A Distant Memory a One Woman Show By Jennifer Field A near-fatal car accident left Jennifer Field with a traumatic brain injury at the age of 17. Through the autobiographical one-woman show "A Distant Memory" Jennifer shares her journey of hope and recovery. Brain injury survivors identify with the struggles of Jennifer and her family and draw hope and inspiration from the autobiography of the successful brain injury rehabilitation and recovery of Jennifer Field. A Distant Memory is a critically acclaimed, autobiographical one-woman show that enjoyed an extended run at The Ruskin Group Theatre in Los Angeles in 2005 and has since been taken on the road to colleges and rehabilitation facilities throughout the country, and is now on DVD. Determined and unwilling to give up, Jennifer ignored her doctor's prognosis and with the help of her loving and dedicated Mother, Joanne Field, combed the globe in search of treatments and therapies that would help her regain her life. The slow and often despairing journey took every ounce of strength and commitment they had. Jennifer outlines four rehabilitation treatments she found most helpful in the rehabilitation of her Traumatic Brain Injury and how these helped her regain a productive life. Jennifer now leads a full life helping other brain injury survivors via the J Field Foundation. Jennifer speaks at Brain Injury related events as a keynote speaker, and performs her show at schools and smaller venues. The proceeds benefit the J Field Foundation which helps others brain injury survivors. Jennifer's true story and successful therapies are all in this A Distant Memory DVD, and all proceeds go to the J Field Foundation.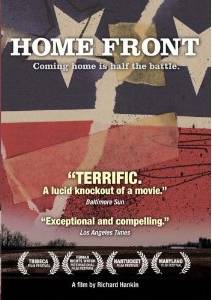 Home Front To date, tens of thousands of American troops have been wounded in the war in Iraq. What happens when they come home? Home Front captures the story of these soldiers and their families, told intimately through the Feldbusch family of western Pennsylvania, and their wounded son, Jeremy. The result is an unprecedented and insightful view of how one American family copes with events that have forever changed them. A heartbreaking and inspiring true story, Home Front gets behind the often-sanitized myth of a war to reveal its true human cost.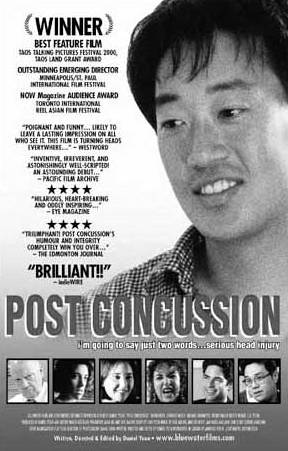 Post Concussion What does it take to change your life for the better? How about a severe blow to the head. In this semi-auto-biographical story, Matthew Kang is a cutthroat consultant out of touch with his family and in a dead-end relationship. After a car vs. pedestrian accident he is forced to take stock of his life. Follow Matthew as finds real love and a sense of humor in this brutally funny, unsentimental yet oddly inspiring portrayal of one man's journey after a serious head injury.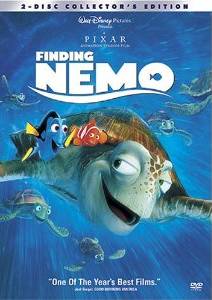 Finding Nemo Timid father journeys to find his lost son. Accompanied by Dory, a fish with short-term memory loss (retrograde amnesia). "I think I lost somebody, but I can't remember." Accurate account of TBI and retrograde amnesia. Dory cannot learn or retain new information. Dory cannot recall names, where she is going or what she is doing.
Finding Nemo portrays the frustration others may feel when dealing with TBI deficits. It also portrays others' acceptance of those with memory loss and the positive contributions the latter have to offer.
At the worst times Dory is lost, alone and confused. In the best times Dory is eternally present, exuberant and fearless.